ConsignWorks Hosts Double Pulitzer Prize Winning Author's Home
July 29, 2019 – Consignworks is proud to be hosting the estate sale of David Donald! For those with a passion for the past, especially American history, this upcoming estate sale will offer the rare chance to own the book collection and artifacts of a double Pulitzer Prize-winning author and historian.
The estate in Lincoln will feature nearly 10,000 books owned by the late David Donald, who won two Pulitzer Prizes, and his wife, Aida Donald, also an author and historian. Here is the link for more information!

Link: Estate sale to feature Pulitzer Prize-winning author's library, historical artifacts
Consignworks Hosts Bourque Family Estate Sale
Boxford, MA June 22, 2019 – The Bourque family is downsizing and ConsignWorks is hosting their estate sale! ConsignWorks is proud to bring you this great opportunity to own a piece of history! There will be memorabilia – and we have a household FILLED from top to bottom with great furniture, jewelry, designer clothing and shoes, designer purses and accessories, some Restoration Hardware and Frontgate outdoor furniture, designer sunglasses, tons of kitchen items, fabulous decor and more! We have Bruins and Bourque memorabilia, a 6.5 foot tall bronze statue of a golfer, exceptional furnishings, a Bernhardt Dining Room, stunning estate jewelry, a giant walk-in closet filled with all things designer, including Louis Vuitton, Jimmy Choo, Gucci, Burberry, and the like!

Boston Globe Link: Boston Bruins legend Ray Bourque is selling his stuff
Doran Family Benefit Estate Sale raises nearly $10k!
Webster, MA, July 20, 2015 – On July 11th, several Consignworks staffers held a pro bono estate sale to raise money for the Doran family of Marlborough, MA. Their volunteer efforts and the family were featured in this Metrowest Daily News article. Between sales and the generous donations from our customers and the community, almost $10,000 was raised to help with Peter Doran's medical bills. Thank you to all who came out — you helped a very special family as they navigate this difficult time.
Congratulations to our team members who passed the USPAP exam!
Webster, MA, December 20, 2014 – Congratulations to all six members of the Consignworks team who successfully completed the USPAP 15-hour course! USPAP stands for Uniform Standards of Professional Appraisal Practice, established by The Appraisal Foundation.

"The Foundation is dedicated to promoting professionalism and ensuring public trust in the valuation profession. This is accomplished through the promulgation of standards, appraiser qualifications, and guidance regarding valuation methods and techniques."

Held at the Rhode Island School of Design in November, the intensive class was taught by Sandra J. Tropper, an Accredited Senior Appraiser of Fine Art, and instructor for American Society of Appraisers. Everyone who attended has already been able to apply the knowledge gained to making Consignwork's valuation services even stronger. Clients can rest assured our team is USPAP compliant. Deidra Witschorke, owner and founder of Consignworks states it best, "This class has been a tremendous validation to the effort and care we put into pricing, which is key to successful sales for our clients."
In Memoriam: Gaetane (Tana) Scouras – (1961-2014)
Worcester, MA, January 15, 2014– Gaetane Aline Scouras died peacefully in the presence of her loving wife, Deidra on January 15, 2014, age 52. Although diagnosed with pancreatic cancer earlier this year, she continued as CEO of Consignworks until very recently, helping it to become the largest estate sale company in New England. The company will continue to grow on it's projected path per Tana's vision.
Consignworks To Manage the Estate Sale for Mr. Curt Shilling
Wellesley, MA, October 6, 2013– Consignworks is pleased to announce the estate sale of Mr. Curt Shilling of Medfield Mass. As with 80% of our clients, the Shillings are downsizing, and Consignworks provides professional services to make the sale worry-free. The sale will be conducted on Saturday, October 12th, from 8am to 4pm at the residence on Woodridge Road. The sale will consist of exquisite furniture, home furnishings and decor and many other wonderful and unique items. The contents of this 7 bedroom, 8,000 square foot home offers entry tables, china cabinets, a handsome, custom-built 13 foot dining table with ten chairs, Tiffany & Waterford crystal pieces, Lladro figurines, custom sofas, sofa tables, coffee tables, a Kohler & Campbell baby grand piano, lots of home decor & accents, mirrors, faux plants, lamps, clocks, glassware, china, small kitchen items, linens, porch rockers, Catnapper power lift chair, artwork, bar stools, Holiday decor, Pottery Barn bunk beds, lots of toys & games, electronics, clothing, DVDs & books, drum set, and more. Other furniture includes Pottery Barn bedroom furniture, a Craftsman tractor, marble top sink, club chairs and home theatre furniture.

There is a also a Bambini zamboni, a Hummer golf cart, basebal, glove chair, billiard table, pinball and arcade games, various sporting equipment, a pristine retro Coca Cola machine, Studio 38 drafting tables, lots of costumes just in time for Halloween … and so much more to be unpacked! Due to the large quantity of items, the sale hours have been extended. Off Route 27 (Spring St)in Medfield Mass, signs and a police detail will direct traffic. Credit cards and cash accepted.
Consignworks Appears on NECN!
July 12, 2013– At 7:50 a.m. Consignworks sales manager, Vicki Rellas, appeared on NECN to talk a little bit about Consignworks and the service we offer. Below is the article from NECN and the link to watch Vicki's interview!

Buyers and Sellers Week: Selling your old items Friday, July 12, 2013, 8:36am (NECN) "Moving is one of the biggest stressors in life, but there are people and companies out there, whose businesses are built around helping you. Sometimes that help will even put money back in your wallet. Vicki Rellas from Consignworks helps you clean up, clean out and cash in. They will come to your house, price your items and help you sell them. Through the advertisements and the labor of Consignworks, they take 30% of the profit from the items sold."

Click here to watch NECN Video Clip
Consignworks Spins Off Antiques Store
Dudley, MA, May 30, 2013– Consignworks, Inc, New England's largest estate sale company, has spun off its retail store operations. The retail gallery, New England Antiques, is an 11,000 sq ft store that specializes in fine antiques, art and collectibles from the 1700s to the present. It will now operate as a standalone company.

"It made sense to focus on the exploding growth of our estate sale line of business. We want to expand into new markets, partner with other companies, auction houses and dealers where there is great synergy. Now we can devote 100% of our resources to estate sale services," says Tana Scouras, President. "We will continue to work closely with New England Antiques, but it is now a separate, standalone company." The divesture is effective May 1, 2013.
Consignworks Offers Concierge Services
Dudley, MA, Jan 14, 2013– Consignworks, Inc, New England's largest estate sale company, has announced plans to provide comprehensive concierge services in addition to professional estate sale management. Consignworks provides professional services to private clients, businesses, and non-profits that are downsizing or liquidating estates, and selling personal property. Since 2004, they have served the general Massachusetts area, running 80-100 sales per year, covering average homes to 15,000 sq ft mansions. In addition to estate sales, Consignworks has assisted the Isabella Stewart Gardner Museum, the Nightingale Inn, Dreamworks, Spookyworld, and other movie studios.

"We recognize that estate sales often require additional and specialty services beyond the sale," says Tana Scouras, President. "Clients have asked us to provide other services, as often they have already relocated, and prefer to work with a company that they know and trust. We are happy to have to provide these services." Consignworks is able to provide a multitude of services, from packing, shipping, and cleaning, to even returning cable boxes for clients. These services will offered starting January, 2013.
Consignworks to Sell Hand-Crafted Early American Furniture
Dudley, MA, Sep 12, 2012– Consignworks, Inc. is pleased to announce that it has entered into an agreement with Paul Rulli Reproductions, award-winning craftsman of early American furniture (c1680-1840), to sell their items in retail and on-line channels. This collection of museum quality reproductions represents celebrated examples of the American William and Mary, Queen Anne and Chippendale Periods, Dunlap chairs and chests, Connecticut lowboys and highboys, Philadelphia Tea Tables as well as painted furniture of Taunton Massachusetts, coastal Connecticut and Pennsylvania are among the offerings to be found in a constantly evolving inventory.

Rulli furniture is constructed with the finest woods including curly maple, cherry, chestnut, mahogany, and others, one piece at a time using period tools and methods. Each item is hand-planed, hand-carved and hand finished to create a stunning an precise reproduction of its period original. Mr. Rulli has been selected seven times for Early American Life's Directory of American Crafts, Formal & Painted Furniture. He is a Member of the Society of American Period Furniture Makers and has been featured in several publications.

"We are so proud to feature this incredible line of furniture in our gallery," says Tana Scouras, President. "The outstanding craftsmanship and attention to detail with each piece truly makes them a treasure. This furniture enables our buyers to afford a reproduction of timeless pieces of yesteryear. We invite folks to come in and see the talents of this master furniture craftsman. "

Consignworks will sell the Rulli Collection through its 11,000 sq ft retail gallery, New England Antiques. The antiques gallery features antiques, art, pottery and other fine items. The furniture is available for viewing during normal business hours of Fridays and Saturdays 11-5 and Sundays 11-3. New England Antiques is located at 137 Schofield Ave in Dudley (Route 12) less than 20 minutes from Worcester, Sturbridge and Putnam, CT and one hour from Boston. All credit cards will be accepted. The Rulli color catalog can be downloaded here.
Historic Nightingale Inn in Wenham/Beverly Estate Sale by Consignworks
Wellesley, MA, Aug 1, 2012– Consignworks, Inc. is pleased to announce the estate sale of the famous Nightingale Inn of Wenham, MA on the North Shore. Fine furniture, art, rugs, silver, tapestries and all furnishings will be sold to the public before the inn converts to a private residence.

The Nightingale Inn, nestled in scenic Cape Ann in Wenham was built in 1910 by Arthur D. Little, the famous entrepreneur who discovered acetate and went on to build a multi-national corporation. Later, John and Augusta Nightingale owned this historic residence, which is complete with horse barns, fountains, pools and gazebos, and abuts Audubon land. Augusta is a direct descendant of Thomas Jefferson. President and Nancy Reagan once stayed at this residence, as well as astronauts and other celebrities. The home features grand reception halls, staircases, a hand-painted Zuber wall covering depicting the complete 1849 El Dorado scene. Magnificent, well-appointed rooms and grounds make this an exceptional estate.

The sale features the contents of the main residence and other buildings filled with fine furniture in Chippendale and English styles, including a Chippendale style dining room, settees and fainting couches, parlor chairs, a variety of tables, chests, and accent pieces. There are leather chairs and recliners, desks, lamps, several bedroom sets with canopy beds, Shaker style items, classic mahogany pieces, a king sleigh bed, cast iron bed, c1920s antiques, and more. There are dozens of beautiful area rugs and runners, many LCD TVs, dozens of fine prints, lithographs, paintings, pedestals, tapestries, Egyptian artwork and other items from around the world. Also for sale are porcelain figurines and chargers, a complete Wallace sterling silver service in the Grand Baroque pattern, dozens of other sterling serving pieces, demitasse sets, tea sets, serving bowls, a Murano glass bird collection, large sets of fine bone china, the entire contents of the kitchen and pantries, décor accents, and window treatments. There are outdoor patio sets, as well as the contents of the basement and barn that house lawn and garden equipment, tools, cast iron bathtubs and sinks and other architecture items, and hundreds upon hundreds of other great finds from 10 years of restoration and accommodation.

The sale will be held on August 18th and 19th from 9AM to 3PM daily at 356 Grapevine Road in Wenham, MA. All items must be sold that weekend. All credit cards will be accepted. Pictures and sale information are available at http://www.consignworks.com.
Spooky World Estate Sale Oct 8/9/10 2011
Dudley, MA, Sep, 2011– – Consignworks, Inc. is pleased to announce the estate sale of David Bertolino, Producer, and former owner of the Spooky World Theme Park in Berlin, MA. This private collection contains thousands of unique and collectible items covering the horror genre and many other items of interest. This three day event will offer an extensive collection of one-of-a-kind items, collectibles and memorabilia. There are vintage pinball machines, a comic book collection with hundreds of items, Victorian and vintage clothing, over one thousand Halloween costumes, novelty jewelry, autographed pictures and props, haunted house displays, original movie posters, statues, novelties, and tens of thousands of other wonderful items.

Spooky World was created in 1991 by David Bertolino. Since its inception, it has grown into the Northeast's largest horror theme park and featured shows, celebrities and entertainment. David sold the Spooky World brand in 2005 and is now engaged in producing off-Broadway plays and other television productions.

The sale will be held on Columbus Day weekend, October 8th, 9th and 10th from 9AM to 3PM daily at Brewster Road in Sudbury, MA. There will be many giveaways, promotions and fun surprises. A portion of proceeds will benefit Pediatric Cancer charities. All credit cards will be accepted. Pictures and sale information is available at http://www.spookyworldestatesale.com.

Consignworks is New England's largest estate sale company, with main offices and a retail gallery in Dudley, MA. In addition to estate sales, Consignworks runs non-profit fundraisers and has supplied furniture and props to Dreamworks and other studios for movie productions. Consignworks is on the web at http://www.consignworks.com or by telephone at (781) 591-3003.
Consignworks To Resell Isabella Stewart Gardner Museum Shop Items
Dudley, MA, Feb, 2011– Consignworks has reached an agreement with the Isabella Stewart Gardner Museum which allows Consignworks to offer artisan jewelry and specialty items from the museum shop. The museum shop is currently closed for renovations and expansion. Since 1903, The Isabella Stewart Gardner Museum has been a venue of art education and enrichment for Boston and the global community, and features an extensive collection of fine paintings, sculpture, tapestries, furniture, manuscripts, and decorative arts. Consignworks will market these items to both retail and on-line customers.
Worcester Telegram article about Consignworks
Dudley, MA, Nov, 2010– Consignworks is featured in the Worcester Telegram about our Dreamworks movie furniture.
Consignworks Provides Retro Furniture for Movie "Something Borrowed"
Dudley, MA, May, 2010– Consignworks supplies Heywood Wakefield Sculptura furniture for the movie set of "Something Borrowed", starring Kate Hudson, and filmed in New York!
Consignworks Sells Original Medvedev Painting
Dudley , MA , Dec, 2007– Consignworks sells listed artist Igor Medvedev (1931- ) painting for $4,400.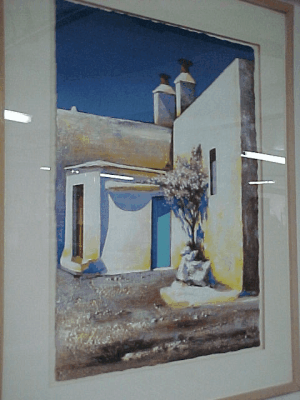 Allston Boys & Girls Club Use Consignworks
Allston , MA , March, 2007– The Allston Boys & Girl Club taps Consignworks to sell excess computer equipment.
Consignworks Earns Ebay Red Star
Webster , MA , February, 2007– Consignworks receives eBay Red Star for reaching 1000 positive feedbacks.
Ferdinand Barbedienne 1866 Bronze Mercury Sold by Consignworks
Webster , MA , December, 2006 – A circa 1866 bronze sculpture of Mercury (Hermes) consigned to Consignworks was sold to a private collector for over $3000. This piece was cast by the Barbedienne foundry in Paris. Ferdinand Barbedienne ( 1810-1892) was well known for his bronzes of mythological figures, candelabra and other castings.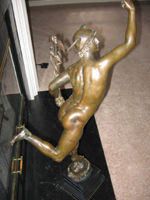 Consignworks Sells Two Sidney Gross Oil Paintings
Webster , MA , August, 2006 – Consignworks has successfully sold two original abstract oil paintings by Sidney Gross ( 1921-1969) These pieces were on consignment from a private collector, and were sold to a gallery in New York. Terms were not disclosed.
Sidney Gross was born in New York, and has exhibited at the Whitney Museum, Georgia Museum, Oklahoma City and many other museums and galleries. He was a member of Audubon Artists, AEA and others.